Ez Travel Inn College Station
30.61274

,

-96.31526
College Station

,

United States

|
52US$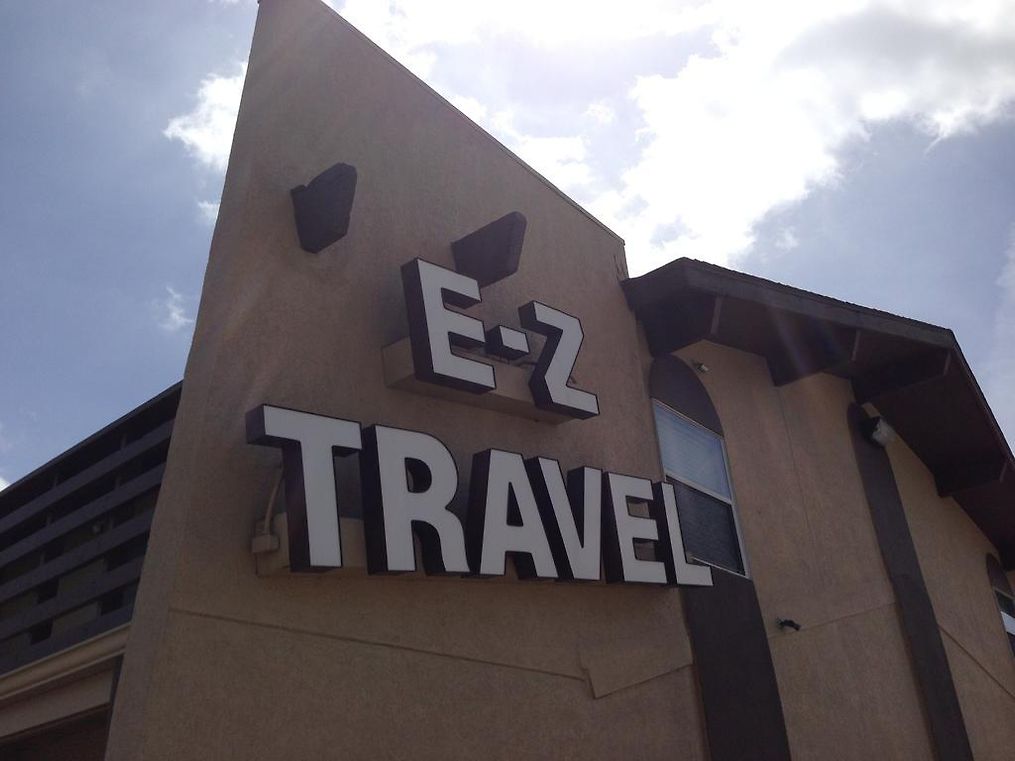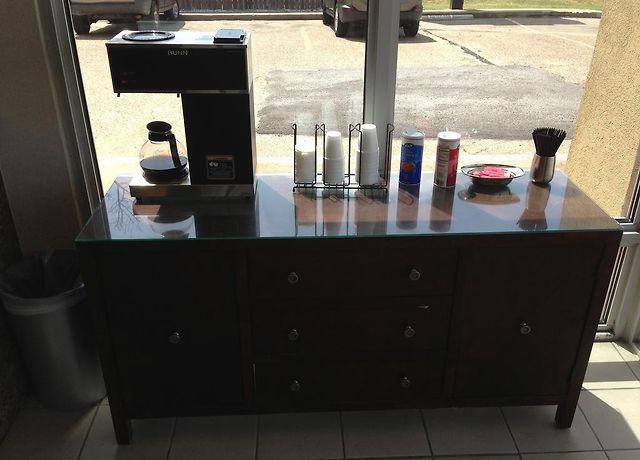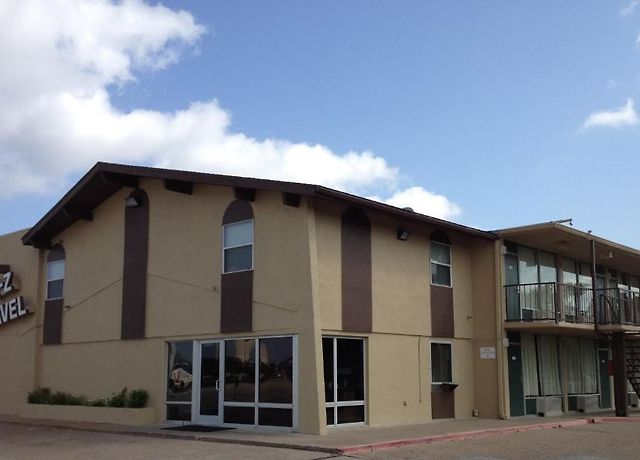 Address
2007 Texas Ave S
,
College Station
,
Texas
,
United States
,
77840
, Texas
Overview
The charming Ez Travel Inn College is a 2-star property about a 25-minute walk of Bee Creek Park. This inn has on-site 24 hour front desk assistance, housekeeping and tour/ticket assistance available to guests.
Location
Guests will also appreciate proximity to George Bush Presidential Library and Museum, which is in 2.2 miles away. Guests can reach the center of College within 30 minutes' walk. This charming hotel is within a short driving distance of Bonfire Memorial.
Rooms
Some rooms are fitted with a private bathroom.
Eat & Drink
Guests can dine at Jimmy John's situated a mere 5 minutes' walk away.
Internet
Wireless internet is available in the entire hotel for free.
Guest Parking
Public parking is possible on site for free.
Number of rooms:   72.
Facilities
Most popular facilities
Check-in/ Check-out
Express check-in/ -out
VIP check-in/ -out
General
Wi-Fi
Parking
Baggage storage
24-hour services
Swimming pool
TV
Meeting facilities
Check-in/ Check-out
Services
Housekeeping
Dry cleaning
Business
Business center
Fax/Photocopying
Spa & Leisure
Seasonal outdoor pool
Sun loungers
BBQ facilities
Shallow end
Room features
Air conditioning
Heating
Sitting area
Garden furniture
Dining table
Media
Flat-screen TV
Telephone
AM/FM alarm clock
Good to know
Check-in
from 15:00-23:59
FREE
Check-out
until 11 am
FREE
Children & extra beds
There are no extra beds provided in a room. 
There are no cribs provided in a room. 
Pets
Pets are not allowed.
Rooms and availability

Bed options:

Max:

2 persons

Bed options:

Max:

4 persons
City view

Shower

Heating

Bathtub

Balcony
Location
2007 Texas Ave S
,
College Station
,
Texas
,
United States
,
77840
, Texas
City landmarks
Nearby
Restaurants
Library
George Bush Presidential Library and Museum
2.2 mi
History Walk \u002F Spirit Ring
Anderson Athletic Park
2200 ft
Arctic Wolf Ice Center
4900 ft
Park
Wolf Pen Creek Park
4900 ft
Olsen Field at Blue Bell Park
1.5 mi
Football Practice Fields
1.5 mi
Washington Chapel Baptist Church
2200 ft
Grace Bible Church College Campus
2200 ft
Church
Grace Bible Church
2200 ft
Brazos Valley Fellowship
2700 ft
Wolf Pen Skating Rink
2700 ft
G Rollie White Coliseum
1.5 mi
1702 George Bush Dr E
Sweet Eugene's House of Java
3100 ft
Connecting Point Church
3200 ft
Rotating LEGO Death Star
3200 ft
Wolf Pen Creek Amphitheater
1.3 mi
Gallery
Benjamin Knox Gallery & Wine Depot
1.5 mi
756 Houston ST North side\u002FRichardson Zone Plaza
Reveille Gravesite
1.5 mi
Texas A&M A.I. & Manet Schepps Hillel Center
4800 ft
Getting around
Airports
Huntsville Municipal (uts)
51.6 mi
You can book a shuttle, once your reservation is complete.
Reviews
Kenneth

Frontdesk staff was nice and the room was very clean.

Room was good value.

missing

The room was clean but old. And the normal price was 45 dollars. But due to the game the price trippled Thanks

missing

I had to change plans at last minute and reduce time of stay - they were very flexible and approved it.

missing

No kleenex, and none when requested, had to request toilet tissue, broken shower head

missing

Convenient

towels were very thin, and no blankets.

missing

location close to school where my son attends

I was suppose to have a non smoking room and that room reeked of smoke. we asked for extra towels and never recieved any,they said they were out

missing

Convenience to Texas a&m University. Budget friendly. Friendly staff.

The pillows.

missing

When I have a brief overnight business trip, I like to save money and simply need a clean place to sleep for the night. My room was very clean and the location was perfect.

missing

The location is great - in the main street, good highway access, close to Texas a&M.

Not very clean, no security lock on the door, overpriced for the quality (if we had driven 2 blocks farther we could have stayed in a cleaner looking hotel for $25 less! The window units released so much moisture that the bedspreads felt wet. I would not stay here again.

missing

It was close to everything I needed.

The pillows on the beds were flat as can be. Someone may want to invest in purchasing new ones soon.

missing

The most employees were professional, nice & courteous. The room was very clean. The hotel was close to the college, shopping & dining.

Wasn't coffee or a coffe maker in the room, when went to the front office to get some they stated that they stopped serving coffee & didn't offer to make more. Really needed a desk & there was no desk jsut a small round table with two chairs. On the website it states that there is a desk. Along with pricing that was the main reason we picked this hotel.

missing

It was clean, the beds are comfortable , and it has good A/C.

missing

It was close to the college

The room smelled of smoke and I thought I asked for non-smoking

missing

Close to college

Half eaten apple behind tv and sock left behind the night stand

missing

The price was lowest among all others in the same street, lower than even motel 6 if you can believe that. Free wi-fi, friendly staff, good location. Iron, microwave and small fridge in relatively clean room.

I chose this hotel quite frankly because I was forced to stay overnight due to bad weather and had very little resources so to do and so I went for anything that had a bed with the lowest price. I suppose you get what you pay for - very small lobby and no continental breakfast soooooh take that into consideration.
FAQ
Which airport is the closest to Ez Travel Inn College?
Ez Travel Inn College is located 0.5 miles from Easterwood airport.
What is the earliest I can check-in at Ez Travel Inn College?
At Ez Travel Inn College you can check in from 3 PM till 11.59 PM on your day of arrival.
How far is Ez Travel Inn College from the city center?
The city center is located 1.6 miles away from Ez Travel Inn College.
Are there any cleaning services provided at Ez Travel Inn College?
Yes, Ez Travel Inn College provides dry cleaning service.
What landmarks can I find in vicinity of Ez Travel Inn College?
Lemon Tree Park is worth visiting, plus it is set a 8-minute stroll away from Ez Travel Inn College.
Can I have lunch or dinner next to Ez Travel Inn College?
Yes, you can have a meal at Jimmy John's and Aji Sushi located about 800 feet away from Ez Travel Inn College.
How much does it cost to stay at Ez Travel Inn College?
The price for a room in Ez Travel Inn College starts at $100.